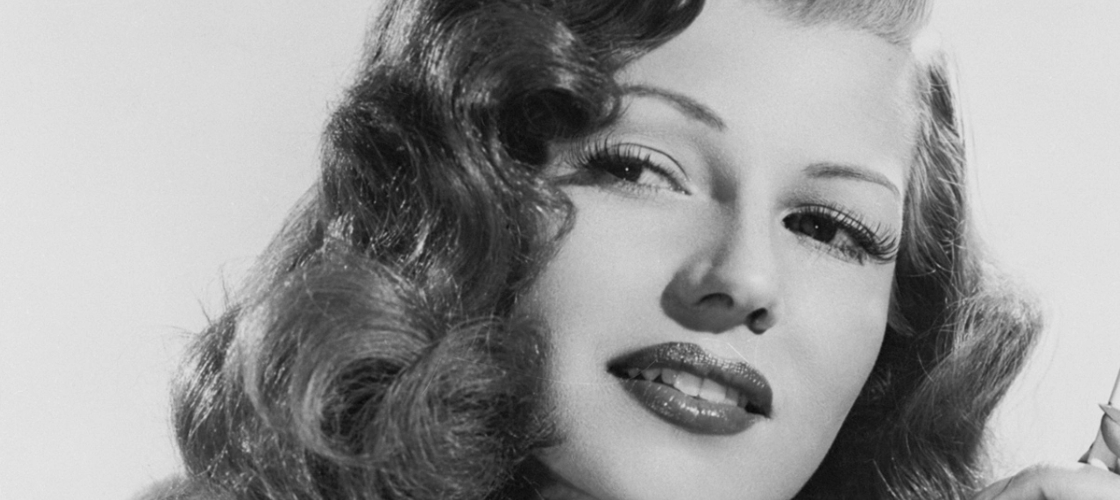 Rita Hayworth – A Triumphantly Tragic Life
I recently received my autographed copy of Barbara Leaming's book: "If This Was Happiness: A Biography of Rita Hayworth". Needless to say, I was excited to receive the book and equally excited to dive right into her story. Throughout my life, I've known about Rita Hayworth, but never really looked closely at her life or career. I heard passing stories about her glamorous and sensual performances on the silver screen but never took time to know or understand who she really was. As many know, she was the dream girl of many young GI's as they went to war back in the 1940's.  There's no denying how beautiful she was.  She embodied the beauty and essence of the very goddess she portrayed in the 1947 movie "Down To Earth", where she played the Greek Goddess of song and dance Terpsichore.
Margarita Carmen Cansino
Margarita Carmen Cansino (later known as Rita Hayworth) was born October 17, 1918 in Brooklyn New York.  She was the oldest daughter of Eduardo and Volga (Hayworth) Cansino.  Her parents were both professional vaudevillian performers.  They travelled the world performing in vaudeville shows to make a living. Volga was a dancer with the Ziegfeld Follies and Eduardo was a professional dancer from Spain with a long family lineage of exceptional dancers. He expected his daughter to become a dancer at an early age.  She had no choice.  By 13 years of age, Margarita was dancing professionally with her father. She was the big attraction of the Dancing Cansino's and also the bread winner for the family.
An Accomplished Dancer and Actress
Rita acted in 61 films over 37 years. Quite an accomplishment. At 16 years old, she made her first major film debut in the 1935 film Dante's Inferno. In the film she's featured in a wonderful dance scene. This was the beginning of her film career.
In the early 40's Rita filmed two movies with Fred Astaire. Fred called Rita his favorite dancing partner. An amazing compliment considering he filmed 9 films with the great Ginger Rogers. Rita was truly an outstanding professional dancer who could learn complex dance routines in a very short time. According to Astaire's choreographer Hermes Pan, what normally took most dancers 4 to 6 weeks to learn, took Rita only 3 or 4 days.  She danced effortlessly and clearly showed a high level of skill and grace on screen. Dancing was in her blood. She was a consummate  professional and it always showed.
In 1944, Rita also costarred with Gene Kelly in the movie Cover Girl where she continued to showcase her magnificent dancing ability. Cover Girl predates "Singin' In The Rain" but shows glimpses of that movies wonderful choreography. It almost feels as though Gene was experimenting and working certain technical things out with Rita in Cover Girl which he would later utilize in Singin' In The Rain. That's the feeling I get from watching Cover Girl. It's a great movie and just incredibly fun to watch.
The Love Goddess
To her chagrin, the Hollywood press coined Rita as the "Love Goddess".  This was not something she was proud of. She worked very hard as a professional dancer her entire life and worked equally hard to be accepted as a serious actress. She was a great actress. The last thing she wanted to be known for was being a glamorous "Love Goddess". Her talent far surpassed the superficial nicknames the Hollywood press gave her.
Must Watch Films
Most critics select Gilda as her shining acting achievement. It surely is an outstanding performance.  However, my personal favorites are Down To Earth, The Loves of Carmen, You Were Never Lovelier and Cover Girl.
Rita could play the girl next door, a sultry temptress or even a hateful bitch. She had great range but was still very underrated in my opinion.
Harry Cohn, founder and former head of Columbia Pictures was a nasty guy who had a very rocky relationship with Rita.  She was under contract with Columbia for many years. Cohn was very demanding and pushed the sex symbol image, which was not her desire or style. He made many sexual advances which she refused, which resulted in a tempestuous working relationship.  He even bugged her movie trailers and office so he could secretly listen to her conversations. It's amazing she was able to endure working under these horrible working conditions. But I digress.
In her later years she also filmed several independent movies in Europe. One role that stands out to me is her role in the 1968 movie "The Bastard". It's not an incredibly great quality movie, but her performance in this low budget B-film shows her range. In the film she plays an emotionally unstable alcoholic mother of two psychotic criminal sons. If you're a fan of Rita's work, this role will surprise you. if you can get past the poor audio dubbing, it's worth a watch. The performances and story are pretty good.
Child Abuse
What many people don't know about Rita is that she was sexually abused by her father. This abuse continued throughout her childhood, as she tirelessly travelled with him to support the family. Her mother sadly turned a blind eye to this abuse, making only feeble attempts to prevent it from happening. Margarita often travelled alone with her father while Volga stayed at home watching their two sons.
The unfathomable mental and physical anguish that young Margarita endured at such an early age damaged her for life.  Her sweet smile and graceful dancing belied the intense pain she felt inside. She had no childhood. She couldn't live, play or go to school like normal kids. So much was demanded of her at an early age. The pain she endured had a lasting affect on her adult life. She had 5 failed marriages. Her longest was to Orson Welles, whom she credited as being "The great love of my life".  That marriage lasted 5 years.
An Ongoing Pattern
For many victims of child abuse, they continue to follow a pattern of abusive relationships that continues throughout their adult lives. Rita was no different. In the hope of escaping the control of her father, at 18 she eloped with 43 year old Eddie Judson, an unreliable, untrustworthy, shifty conman who saw the enormous potential in her talent and used her for his own success. He treated Rita as an investment and did everything in his power to control her.  He even tried pimping her out to Hollywood executives to push her career.  She refused. It was one of many abusive relationships she would enter. She wanted love and wanted to have a normal life away from Hollywood, but she continued a destructive pattern of looking for love in all the wrong places, essentially looking for a father figure who would protect her and take care of her. The betrayal of trust that her own father committed, damaged her beyond repair. Orson Welles was perhaps the most stabilizing figure she had in her life.
Rita enjoyed several happy years together with Orson. But he was young and ambitious and in the end, didn't give her the time or attention she hoped for. She had her first child with Orson. After they amicably divorced, and then several more times tried to repair their marriage, in the end, it seemed destined that they go their separate ways.  Then after, she seemed to get into more relationships with men who were having troubles in their careers and who used her to boost their own egos and financial opportunities. She was a hard worker, the bread winner, working in an industry that she so desperately wanted out of.
After Orson, came Prince Aly Khan.  Once again, another man who used her for her fame. She had a turbulent relationship with this playboy prince, though she did give birth to her second child with him.  She once said "They go to bed with Gilda, and wake up with me" referring to her famous role in the movie Gilda, where she plays a hot tempered steamy seductress.  The sexy image men saw on the movie screen was nothing like the quiet and shy personality she really had in real life. She just wanted to be a normal girl; a home body, with a normal family.  After Aly Khan, came the abusive crooner "Mr. Evil" as he was known, Dick Haymes. Dick himself was already a deadbeat dad twice over. He used and abused Rita to no end, even physically hitting her and giving her a black eye.  Then came the short lived marriage to producer James Hill.  It was a turbulent pattern of unstable relationships throughout her entire life that created a constant frenzy of hurtful media attention and scrutiny. By the time Rita was 43, she had 5 failed marriages. We can trace this sad pattern back to her father Eduardo and the child abuse he inflicted on her.
Longing For A Simple Life
In one of the later chapters in the book, Rita was doing promotional work in South America. There was never a day when the press didn't stalk this woman. She was a prisoner to her own fame. During this time she was also dealing with the onset of Alzeiheimers disease, which had greatly diminished her memory and caused uncontrollable mood swings. Her PR team was naturally concerned with her well-being and shocked to find her missing from her hotel suite.  They looked for her frantically, afraid that something very bad might have happened. Eventually, they found her at a park, flying kites with the local children.
This story really hit me. It tragically and ironically runs parallel to the moral of Orson Welles' masterpiece Citizen Kane. Here's a woman, in her mid to late 40's, fleeing the limelight to play with the children. She just wanted a carefree and simple life.  She wanted to experience the innocence of a childhood she never had.
Father's – Please Love and Protect Your Daughters
It's no surprise that Rita would eventually die at the age of 68 having suffered through many years of Alzeiheimers and crippling dementia. Such a painful life would be difficult for anyone to face and most understandably worth forgetting.
Rather than delve too deeply into Rita's complete story at this time, I'll leave a link so you can purchase the book. My main intention for this particular post is to simply implore fathers to take care of your daughters and sons. For the sake of this article in particular, I strongly emphasize daughters. When a father like Eduardo does the unthinkable act of sexually abusing and using his young daughter, there's only one word for it. Evil!  I found myself getting angry as I flipped through the pages of the book, realizing that chapter after chapter, there were countless examples of Rita's failed relationships and personal life challenges that were directly related to her abuse. Sadly, she was doomed from the beginning. The fact that she triumphed professionally in so many ways is a testament to her incredible strength to hide her pain, even though she was suffering inside.
Parents have a sacred responsibility to love and nurture their children. That trust is a sacred bond between the parents, the children and God.  Fathers' protect your daughters. Love your children and ensure that they have every opportunity in the world to succeed and to grow up feeling safe, secure, loved and protected. Be their champion, be their teacher, be their protector and be their guide.
Closing Thoughts
I was a very fortunate child, brought up by two very loving parents. It pains me to think that any child could be abused in this fashion.  I couldn't help but imagine what it would have been like if a young Margarita Cansino had parents like mine.  She could have lived a happy and stable life. I know that's not for me to decide. We all must face our own fate in life.
But while I still have breath left in my body, the least I can do is sincerely urge all fathers and mothers throughout the world to cherish and take care of your children. Do everything in your power to give them opportunities to become good, kindhearted, loving, stable, and happy human beings.
Let your actions and morality be your children's guiding light. This is the greatest legacy we'll ever leave behind. This is the most important and most meaningful job you'll ever have. Put your personal ambitions aside and fully embrace your responsibility.  As parents, for the sake of all future generations, please do your job and do it well!
Rita Hayworth – Links
Below are some links to Rita Hayworth information and merchandise online. Stay well and stay blessed!!
Michael (Siris)
(This blog and all content on this website – copyright 2020 SIRIS | Run Hard Media. All rights reserved)
---
Books:
If This Was Happiness: A Biography of Rita Hayworth (By Barbara Leaming)
Movies:
Wikipedia
https://en.wikipedia.org/wiki/Rita_Hayworth