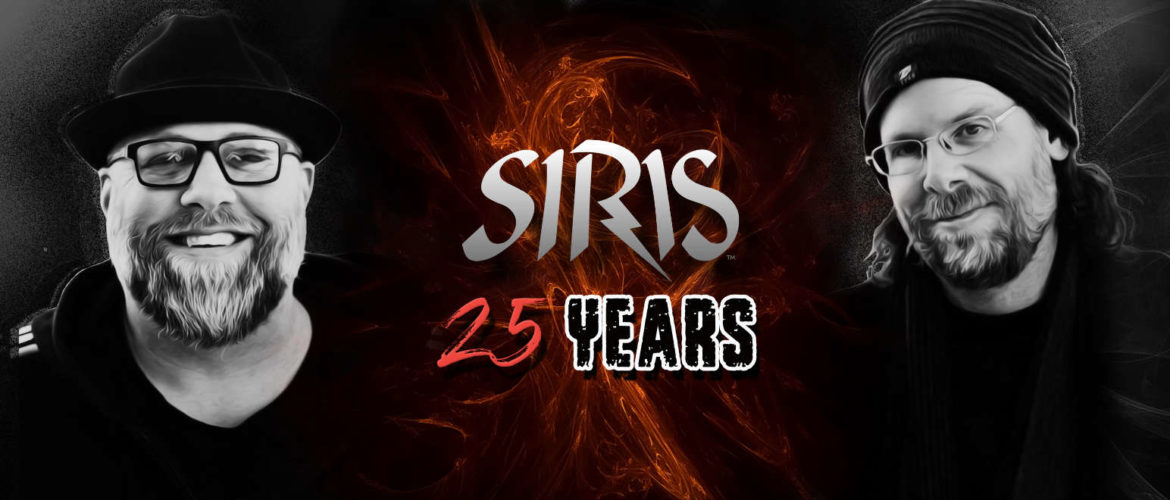 SIRIS – Twenty Five Years & Counting
SIRIS《赛日》is the name of critically acclaimed American music duo Michael and Patrick Maley. It is also the stage name of lead singer and composer Michael Maley; when performing in China.
The brothers from Philly have earned both commercial and critical acclaim as the first act in music history to release original Chinese and English songs, beginning with their 1997 Chinese debut "Till My Last Breath". Since their debut release, SIRIS has taken great pride in their unique role as musical ambassadors, fostering cultural unity between East and West through their unique brand of music. 
The Beginning
The brothers began singing and writing music at an early age. They were self taught musicians.  During their teenage years they performed in local bands in their hometown of Philadelphia. Some of their earliest influences included Genesis, Sting, U2, Rush, Level 42 and Tears for Fears. They were also greatly influenced by the music their parents listened to growing up. Artists such as: The Beach Boys, The Beatles, The Bee Gees, Abba, even Frank Sinatra and Barry Manilow were big influences as well as many other pop, rock, jazz and classical composers of earlier eras.
The brothers, along with their sister Caroline spent their childhood huddled around the record player. Most evenings after dinner they sang along to their parents old records. At a young age, they also learned traditional Italian songs sung to them by their maternal grand mother which left a lasting impression on all three kids. Music was an important part of their lives and appreciation of different cultures and languages was instilled in them at an early age.
Chinese Influence
From the time he was young, Michael took a strong interest in the Chinese culture.  This personal calling blossomed out of his love of the martial arts and Bruce Lee.  He had a dream and was determined to pursue it.  Shortly after graduating high school, Michael moved to China to pursue his studies in the Chinese language at China's prestigious Fudan University. During that time, his younger brother Patrick remained in America, to continue his musical pursuit as a drummer.
Chinese Life and Love of Music
SIRIS' Chinese inspired music is due in large part to Michael's experiences in China. While living and studying in China, Michael worked as an English teacher and translator. His eventual fluency in Chinese and strong martial arts background also helped him gain notoriety in TV commercials and films. In 1994 he was featured in the Chinese language re-make of the popular 1960′s hit TV series "The Green Hornet".  While working and studying in Shanghai he listened to popular Chinese music of that era, in particular the music of Jacky Cheung, Angus Tong, Wakin Chau and his favorite rock artists Black Panther, Cui Jian, Beyond and Wu Bai. Listening to Chinese music not only helped him become more proficient in Chinese it also allowed him to sharpen his Chinese song writing skills.  
Returning Home
After working and studying in China for some time, Michael returned home to America to pursue a career in music. After recording several Chinese and English demos together, the brothers felt they were on to something.  In 1996 they officially formed the band SIRIS, a name derived from the Chinese characters Sai 赛 and Ri日, meaning to surpass the sun. They adopted a unique multi-cultural approach to making music by melding influences from the east and west. As a result, they became the first artists in music history to successfully compose, release and perform original Chinese songs.
The First Album
In 1997 the brothers officially released their independent Chinese debut album entitled "Till My Last Breath"; also known as "Forever Cherishing Your Love" or 永远珍惜你的爱 in Chinese. The album was engineered by eventual Grammy nominated producer David Ivory.  It was a valuable learning experience for the brothers.  It was their first step at pursuing their dream and they were eager to learn.  A brief promotional tour of Taiwan and Mainland China ensued. The brothers used the release as a spring board to generate greater interest in their music, particularly throughout Asia. 
The Order of Time
In 2000, after returning from Taiwan, SIRIS followed up "Till My Last Breath" with their critically acclaimed English debut "The Order of Time". The album was an independent achievement in the truest sense, especially for two brothers still learning the ropes. It was also during this time that Michael took on the role of producer. The brothers were writing and performing music with a definite progressive flair.  The independent success of "The Order of Time" attracted wide praise and generous international radio play.  It also peaked the attention of Grammy nominated musician and former King Crimson front man Adrian Belew who commented: "It's nice to hear something different in a world of so many similar artists."  
Breaking New Ground In The Digital Age
In 2003 SIRIS continued to break new ground by releasing the first ever Chinese language song sold on Apple's iTunes. The song "Beautiful Angel" remains a popular fan favorite. With the inception of online file sharing, digital retail and digital broadcasting, Beautiful Angel was the first Chinese language single to land in the top 15 and top 20 on both MP3.com and Myspace.com respectively. The song was featured prominently on international radio and TV. 
Critical Acclaim and The Release of Xing Fu (Happiness)
In 2005 SIRIS released the critically acclaimed album "Xing Fu". With the digital age in full swing, the title track became a huge hit, receiving heavy airplay in North America, Taiwan and Mainland China. The song and video have since been downloaded over 50 million times and broadcast worldwide. The Associated Press wrote: "This Philly Duo is A Big Hit!" and ABC News remarked: "SIRIS is certainly breaking down cultural barriers between East and West!";  With increased media attention and the wind to their backs, in 2006 SIRIS performed shows across the US and made several appearances in Taiwan and China in support of the new album. MTV offered praise; referring to SIRIS as: "Magical!" stating: "Their music should be accepted because there is sincerity in their work." Later in 2006, SIRIS took part in the first ever live concert broadcast of MTV World's – "MTV Chi Rocks" Concert; a celebration of Chinese American music and culture. The live concert event was broadcast to over 200 million households worldwide.  
We're All The Same
Shortly after the success of "Xing Fu", SIRIS soon prepared for another studio album. In 2007, the brothers worked on new material, much of it influenced by Michael's experiences in China promoting Xing Fu. During that stretch, Michael also traveled to London to meet with Grammy winning producer Hugh Padgham (Sting, The Police, Genesis, Phil Collins). Hugh's longtime work with some of the world's most successful musicians was a huge inspiration for SIRIS. The music of Sting and Genesis were huge influences. Spending a day discussing the tricks and techniques used on some of their most iconic albums was a dream come true.  Michael came away from that meeting feeling empowered.  The experience resulted in the Chinese album, "We're All The Same" 我们都一样. The album was a musical and critical triumph once again. SIRIS hit the road once more to promote the new release. The Chinese World Journal praised the duo: "SIRIS is what's in! They show true appreciation for the Chinese culture and express it with their extraordinary talent; They produce life inspiring work that translates into great Chinese songs." TVBS Television in Taiwan stated "Simply put, the music of SIRIS is refreshing and filled with emotion!"
Sichuan and A Song Embraced By Millions
With much media exposure and continued momentum, the brothers continued to use their music as a means of building a bridge between east and west. Never was that more evident than in 2008. That year tragedy struck Sichuan China in one of the biggest catastrophic earth quakes in centuries. Moved to tears by the human suffering and heroic rescue efforts shown on television, Michael composed and recorded a special tribute entitled "God Bless Sichuan" or 上天祝福四川, featuring Chinese erhu soloist Qin Qian. The song became an immediate hit across China and has been viewed and downloaded over 100 million times across social media. The song was the #1 viewed and downloaded song on China's most popular streaming video platform "Youku.com" from 2008 to 2009 and remained in the top 15 beyond 2013. The song also become a spiritual anthem for many families affected by the tragedy.
China's CCTV commented: "SIRIS is second to none!" Sing Tao Radio commented "SIRIS is outstanding and their Chinese music is fantastic"; Something like this is very rare!" And the Chengdu Daily in Sichuan stated "God Bless Sichuan is Absolutely Moving!" In 2008 and 2009, SIRIS performed at numerous events raising money and awareness for the earthquake disaster relief. In 2009, SIRIS released a special music video commemorating the one year anniversary of the tragic event. The video, directed by John Rhee and filmed by Benji Bakshi featured Michael singing alone against a black backdrop as photos of the tragic event faded in and out. The video was equally a huge hit and prominently featured by most major media outlets across China. SIRIS returned to China for a series of successful concerts and promotional appearances that lasted well into 2011.
New Music and Newer Beginnings
In 2009, prior to Michael returning to China to promote God Bless Sichuan, Patrick Maley became ill and took time to recover. While making a full recovery, Patrick chose to remain behind the scenes in a collaborative role with SIRIS, while still lending support in the creative and recording process.  Michael continued to carry the torch under the SIRIS name as a solo artist.  To this day, he's still known by Chinese fans as SIRIS or 赛日(SaiRi).  It was also during this time that Michael produced the English album entitled "8″. The album, initially released for free on the official SIRIS website, received over 1,000,000 total downloads. God Bless Sichuan was featured on "8" as the sole Chinese single of that album. Chinese fans were more than happy to show their support. 8 featured the singles: "A Trip To Nowhere", "You'll Be Okay" and "No Matter What". During this period, SIRIS was invited to  perform live at the first ever CCTV  Animation Festival Celebration, performing to an audience of over 300,000 people live and broadcast to a live television viewing audience of over 300 million households. For this special performance, SIRIS composed and performed a never before released single entitled "Dream Goddess" 《梦中的仙女》. SIRIS successfully toured several major cities throughout China in 2010 and 2011 before returning home to the US. 
New Projects and Spiritual Expression
After returning to the states In 2012, SIRIS co-hosted a Chinese language radio program on China's 92.3FM called Qing Song Yi Ke. The show was based in the San Francisco Bay Area and cohosted by longtime friend and award winning TV / Radio host Keyi Chang.  
From 2013 to 2015 SIRIS engaged in various side projects while recording music for two new albums.  During this period, Michael took time away from traveling but composed many new songs which he recorded but put on the back burner for future projects. He also wrote a brand new book.  In 2018, he officially released his first Chinese language book under the "SIRIS" name, detailing and recounting his many spiritual experiences throughout life. The book entitled "Spiritual Wisdom –  A Guidebook to Life" had been in the works for over 10 years and was finally complete. 100% of the proceeds from the new book go to worthy charities throughout Taiwan and Mainland China. New instrumental music will accompany an electronic release of the book in 2019.
Everything Good Takes Time
As the saying goes, "Everything good takes time".  In life, timing is everything and the same rings true for music creation. There is new SIRIS music on the horizon for 2021and beyond. The Brothers are back together again, collaborating and creating new music in both languages,  just as they've successfully done over the past 25 years.  A "Best of SIRIS" retrospective is on the way and there are also plans to release full length English and Chinese albums in 2021 and 2022.
For over 25 years, the name SIRIS has been synonymous with creativity and artistic freedom; fusing together influences from different cultures and styles; forming a unique sound that has truly become the "SIRIS" sound. Now a little older and a little wiser, they look forward to reaching new artistic heights in music. Their musical life and journey forges on, twenty five years & counting.  Not bad for two boys from Philly.